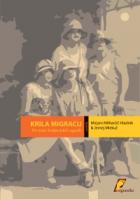 Title:
Edited by:
Other authors:
Year:
Compilation:
Keywords:
Language(s):
Description
Women migrants and their personal experiences have been in the focus of research scrutiny only for these past two decades. The attention has been paid to them since a general belief prevailed in the academic world that migration has always been a process characterized by distinct gender-related specifics. The life stories of migrant women present "lives in a context", in regard to various social, economic and historical circumstances. They also indicate how these lives depended on cultural landscapes, personal attitudes, intimate calculations and independent decisions. The collected life stories show how the decisions in the life-long migration processes are not influenced only by economic and political factors, but mainly by family and friendship networks and bonds, and by intimate reasons and aspirations. It is impossible to understand migration phenomena without personal accounts of migrants along with subjective experiences of those who leave and those who stay. The use of auto/biographical sources has enriched the migration studies with new insights into the different roles, experiences, statuses and dealings of men and women in migration contexts. The book by seven authors – Mirjam Milharčič Hladnik, Jernej Mlekuž, Marjan Drnovšek, Katja Škrlj, Sanja Cukut, Urška Strle, Špela Kalčič – is a contribution to a better understanding of migration dynamics in Slovenia today and in the past.
Table of content
DVE ŠTORIJI ZA UVOD
MOJA NONA
Jernej Mlekuž
NAŠA VARUŠKA
Mirjam Milharčič Hladnik
ŽIVLJENJE, KOT SO GA PISALE
MOJE MISLI SO BILE PRI VAS DOMA
POTI PREHODOV V PISMIH
Mirjam Milharčič Hladnik
SPREJMI MOJ NAJLEPŠI POZDRAV OD TVOJE TE LJUBEČE IN ZVESTE ŽENE FRANCKE
ŽENINA PISMA MOŽU NA NIZOZEMSKO LETA 1929/30
Marjan Drnovšek
BILA JE PREPROSTO SREČA, DA SEM PRIŠLA V KANADO
O RAZLOGIH ZA SELITVE SKOZI STANKINO ŽIVLJENJSKO ZGODBO
Urška Strle
O GLASU LEPIH VID
»MALEDET«?, »SCHIAVITU«?
KO OBLASTNI GLAS UTIHNE
Jernej Mlekuž
KOMAJ SEM ČAKALA, DA ZRASTEM IN POSTANEM ALEKSANDRINKA
DEMITIZACIJA ALEKSANDRINK
Katja Škrlj
ONE, KI JIM NE VEMO IMEN
HOTELA SEM SAMO VIDETI SVET OKOLI SEBE
ŽENSKE IZ RUSIJE IN UKRAJINE V SLOVENIJI
Sanja Cukut
TO JE MOJ DŽIHAD
O TEM, ZAKAJ SO SE NEKATERE BOŠNJAKINJE V SLOVENIJI ZAČELE POKRIVATI
Špela Kalčić
Publishing House
Založba ZRC
ISBN
978-961-254-112-5
Specifications
paperback • 14,5 × 20,6 cm • 250 pages