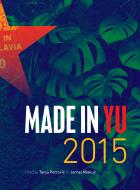 Title:
Edited by:
Other authors:
Year:
Compilation:
Keywords:
Language(s):
Description
V knjigi so zbrane raznolike zgodbe iz jugoslovanske industrijske, vsakodnevne, mitske, popkulturne preteklosti in dediščine. A vendarle, te zgodbe, ki rastejo iz socialistične preteklosti, so zgodbe reči, ki imajo pomembno mesto tukaj in sedaj. Avtorji s pomočjo junakov in junakinj svojih esejev premišljujejo o dramatičnih in pomembnih spremembah, o preoblikovanjih vsakdanjih, kulturnih, političnih, ekonomskih in afektivnih svetovih na območju nekdanje Jugoslavije.
Nagrada za najbolje oblikovano knjigo na 32. Slovenskem knjižnem sejmu (2016) v kategoriji znanstvene in stvarne literature (Tanja Radež).
The book brings several essays on objects, atmospheres, moods, flavors and scents that marked the everyday life in the socialist Yugoslavia. The authors of individual chapters in Made in YU use these objects, atmospheres, moods, flavors and scents as lenses through which they observe practices and processes of significant restructurings and reframings of everyday, cultural, political and affective worlds in the post-Yugoslav societies.
Table of content
Uvod: Uživati in živeti
Tanja Petrović, Jernej Mlekuž
Nove zgodbe starih znancev
7 YU- veličastnih ali ljubezen gre skozi želodec
Franc Trček
Kava ali kaj se (nam) je zgodilo s časom
Tanja Petrović
Jugoslovanizacija kavbojk
Breda Luthar, Maruša Pušnik
Biti burek v deželi kranjske klobase
Jernej Mlekuž
Cockta, pijača moje mladosti, in sedaj, pijača moje starosti
Polona Sitar
Jugoslovanska kuharica
Nikola Janović Kolenc
Modernost na dotik
Kombinirana soba
Ildiko Erdei
Kaj je ostalo od avtomobilskega fenomena Fičo?
Martin Pogačar
Monstera in 4455, Kraljev stol
Tanja Radež
Kiosk K67 ali blišč in beda nekega razvojnega preboja
Ana Panić
Izgubljeno v prehodu
Hajduk in jaz
Dino Bauk
Mi o volku, Vučko iz Sarajeva
Mirt Komel
Rdeči potni list
Valter Cvijić
Po koliko je kila knjig?
Dora Komnenović
Publishing House
Založba ZRC
ISBN
978-961-254-876-6
Specifications
hardback • 14,5 × 20,5 cm • 216 pages • 2 posters
Price
19,91 EUR (Regular)
15,00 EUR (Club)