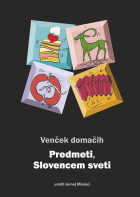 Title:
Edited by:
Other authors:
Year:
Keywords:
Language(s):
Description
A Medley of National Favourites. Things That Make Slovenes Shine
Salted with the words of Benedict Anderson: to the Slovene nation, a love of Carniolan sausages, the Vače Situla, accordions and gibanica cakes "have an aura of fatality",
Peppered with Raymond Williams: that Carniolan sausages, the Vače Situla, accordions and gibanica reproduce a "structure of national feeling", and
Served with Karl Marx: these grandes dames of the Slovene nation weigh
as they must on the brains of living Slovenes.
Table of content
Jernej Mlekuž: NOS IN DVE UŠESI NARODA
Jernej Mlekuž: ZAMIŠLJENA KRANJSKA KLOBASA – V ČASU, PROSTORU, JEZIKU IN USTIH
Mojca Kovačič: V DEŽELI HARMONIKE – NACIONALIZACIJA HARMONIKE V SLOVENSKEM KONTEKSTU
Dimitrij Mlekuž: GOSPODAR VEDER – SITULA IN SLOVENCI
Damir Josipovič: GIBANICA – OBREDNA JED VIŠJEGA SLOJA STAROSLOVENCEV
More ...
Rok Stergar; Zgodovinski časopis 72/3-4 (2018), str.548–549.
Mateja Habinc. Poročila o knjigah in dogodkih / Book Reviews and Reports; Traditiones vol 45/3 (2016), str.17–22.
Kaja Poteko: JERNEJ MLEKUŽ: VENČEK DOMAČIH: PREDMETI, SLOVENCEM SVETI; Družboslovne razprave XXXII/82, 2016.
Dr. Jernej Mlekuž, etnolog in geograf: Kranjska klobasa je fenomen, ki je star prav toliko kot pojem slovenskega naroda (Intervju. Novinar: Zdenko Vrdlovec. Magazin. Priloga Dnevnika, 29. april 2015, str. 1.) Spletna različica na tej povezavi.
Tadej Čater: Kranjska kobasica? Ne, hvala!; MMC RTV SLO, 3. april 2015.
Publishing House
Založba ZRC
ISBN
978-961-254-771-4
Specifications
paperback • 15 × 21 cm • 192 pages
Price
16,00 EUR (Regular)
12,00 EUR (Club)