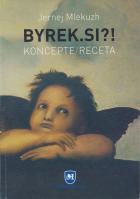 Title:
Author:
Other authors:
Year:
Keywords:
Language(s):
Description
Glavni junak knjige je burekov več. Burekov več? Burekov več predstavlja tisti del bureka, ki je podvržen simbolnemu, konstruiran s diskurzi: vse, kar obstaja na, v, ob bureku in je več od brezpogojnega bureka – bureka kot enodimenzionalnega polnila želodca. Burekov več je v prvi vrsti razumljen kot produkt označevanja, torej pomenov, v katere pa so na številne, kompleksne načine investirana oblastna razmerja. O tem pajdaštvu označevanja in oblastnih razmerij nam jasno govori verjetno najbolj prepoznaven »slovenski« grafit: »Burek, nein danke!« Burek v tej sintagmi, ki povzema (pre)pogosti slovenski odnos do tujcev in tujega, označuje, konotira, stoji za nekaj drugega. In ta, ki to sintagmo izreka, že s tem ko jo izreka, kaže ali želi pokazati na svojo prednostno, nadrejeno pozicijo. Toda pri tej diskurzivni produkciji materialni in funkcionalni kontekst bureka ni nepomemben. V diskurzivno produkcijo (kompleks označevanja in oblastnih razmerij) je na številne načine vključeno nediskurzivno, materialno polje. S parafrazo Marxa, ljudje delajo svoj lastni burekov več, toda ne delajo ga, kakor bi se njim zljubilo, ne delajo ga v okoliščinah, ki so si jih sami izbrali.
"As simple as burek" is a popular phrase used by many young people in Slovenia. In this book Jernej Mlekuž maintains that the truth is just the opposite. The burek is a pie made of pastry dough filled with various fillings that is well-known in the Balkans, and also in Turkey and the Near East by other names. Whether on the plate or as a cultural artifact, it is in fact, not that simple. After a brief stroll through its innocent history, Mlekuž focuses on the present state of the burek, after parasitical ideologies had attached themselves to it and poisoned its discourses. In Slovenia, the burek has become a loaded metaphor for the Balkans and immigrants from the republics of the former Socialist Federal Republic of Yugoslavia. Without the burek it would be equally difficult to consider the jargon of Slovenian youth, the imagined world of Slovenian chauvinism and the rhetorical arsenal of advertising agents when promoting healthy foods.
In this analysis, Mlekuž refers to the burek as the "metaburek." All at the same time it is greasy, Balkan, Slovene, not-Slovene, Yugoslavian, familiar, foreign, the greatest, the worst, disturbingly unhealthy, plebeian, junk food, and finally, a cherub (burek spelled backwards is kerub, the Slovene word for cherub). And this metaburek, the protagonist of this book, is never a completely pure, innocent, unconditioned burek. It is much more.
A word of warning: after consuming this text, the burek will never be the same.
Publishing House
Humanistica
ISBN
978-9951-609-00-5
Specifications
paperback • 21 × 16 cm • 168 pages