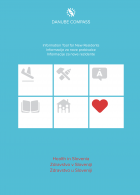 Title:
Authors:
Other authors:
Year:
Keywords:
Language(s):
Description
Večjezična knjižica predstavlja del celovite informacijske platforme o življenju in delu v osmih državah Podonavja, imenovane DANUBE COMPASS, ter nudi pregled osnovnih informacij za lažjo orientacijo znotraj slovenskega zdravstvenega sistema. Namenjena je uporabnikom, ki ne poznajo slovenskega zdravstvenega sistema ter se soočajo z jezikovnimi izzivi, kot tudi zdravstvenim strokovnjakom, ki želijo izboljšati dostop do informacij in storitev za tuje govorce.
This multilingual booklet presents a section of a comprehensive information platform on living and working in eight countries of the Danube region called DANUBE COMPASS. It provides an overview of basic information for easier orientation within the Slovenian healthcare system. Zdravje v Sloveniji is intended for users that are not familiar with the Slovenian healthcare system and are facing language barriers as well as for healthcare professionals who want to improve access to information and services for non-Slovenian speakers.
Ova višejezična brošura predstavlja dio sveobuhvatne informacione platform o životu i radu u osam zemalja Dunavskog regiona pod nazivom KOMPAS PODUNAVLJA (DANUBE COMPASS). Brošura daje pregled osnovnih informacija radi lakšeg snalaženja u sistemu zdravstvene zaštite Slovenije. Namijenjena je korisnicima koji nisu upoznati sa sistemom zdravstvene zaštite u Sloveniji i suočavaju se sa jezičkim preprekama, ali i zdravstvenim radnicima koji žele da poboljšaju pristup informacijama i uslugama za osobe koje ne govore slovenački jezik.
Publishing House
Založba ZRC
ISBN
978-961-05-0101-5
Specifications
paperback • 14,8 × 21 cm • 146 pages