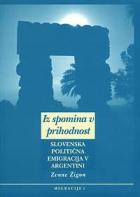 Title:
Author:
Year:
Compilation:
Keywords:
Language(s):
Description
Avtor v monografiji predstavlja izsledke svojega desetletnega raziskovanja etnične identitete slovenskega izseljenstva s poudarkom na Slovencih v Argentini. Najprej osvetljuje teoretsko ozadje obravnavane tematike: (politično) socializacijo, etnično, narodno, nacionalno in versko identiteto itd. Posebno pozornost posveča političnosti in ideologiji, ki sta poleg verske identitete osrednja vsebinska elementa v vezi s politično emigracijo. V drugem delu opisuje izseljevanje Slovencev v Argentino, zgodovinske vzroke povojne emigracije, razvoj organiziranosti izseljencev in odnos politične emigracije do matične domovine ter argentinske oblasti in družbe. V tretjem sklopu obravnava notranjo strukturo te skupnosti: pod drobnogled postavlja odnose med vero oziroma cerkvijo ter politiko, ideologijo in etnično identiteto. Dodatek vsebuje obširna pisna razmišljanja članov te skupnosti, daljše intervjuje in avtorjev dnevnik z zadnje študijske poti. Ta del daje knjigi ne le dokumentarno, ampak tudi literarno, človeško vrednost.
The Slovenian political emigration has until now not been dealt with as a subject of politological scientific research. In the last ten years, the Slovenian attainment of independence and political pluralisation have caused processes of redefining of the identity of the mentioned community, which is for the contemporary Slovenian politology certainly an interesting and above all new phenomena. According to the subject and the approach certainly specific is the dealing with the problems of the relations between politicality and ethnicity.
The methodological introduction is followed by an abbreviated theoretical part in which the basic notions, needed for further understanding, are enlightened. The chapter on religious identity indicates one of the very important and for the Slovenian political emigration typical elements. The descriptive historical analysis is followed by the central part. The theme is "sensed" through reading the interviews, noted in the supplement, of which the purpose is not only to document the research but as well to draw near the mode of sensation of members of the target population to the external observers.
Publishing House
Založba ZRC
ISBN
961-6358-34-0
Specifications
paperback • 24 × 17 cm • 391 pages