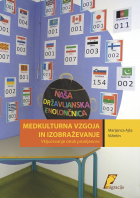 Title:
Author:
Year:
Compilation:
Keywords:
Language(s):
Description
In her book Medkulturna vzgoja in izobraževanje ('Intercultural education') Marijanca Ajša Vižintin analyses integration and inclusion policies, and outlines the development of multicultural and intercultural education, prejudices and their overcoming. She opens the questions about hyphenated identity and explains why and from where migrant children came to Slovenia. The second part of the book introduces an innovative model of intercultural education, composed of seven criteria: 1. interculturality as a pedagogical-didactic principle, 2. systemic support for a successful inclusion of immigrant children, 3. teachers with a developing intercultural competence, 4. development of the awareness of a multicultural society in all school subjects, 5. development of intercultural dialogue in school, 6. cooperation with immigrants (parents), 7. cooperation with the local community. The intercultural education model expects active participation from everybody: students and parents, teachers, being migrants themselves or not, migrants' associations, local and national organizations. The author believes that every teacher has an impact on the including (or excluding) society with her/his attitude, knowledge or actions. Everybody is responsible for inclusion.
Table of content
Zahvala
UVOD
RAZVOJ VKLJUČEVANJA (OTROK) PRISELJENCEV KONEC 20. IN NA ZAČETKU 21. STOLETJA
Družbenopolitični okvir: od izključevanja do vključevanja
Slovenska integracijska politika
Od večkulturne do medkulturne pedagogike
Vključevanje otrok priseljencev in usposabljanje pedagoških delavcev v Sloveniji
Ozaveščanje in preseganje predsodkov pri pouku književnosti
Razmislek o raznolikosti in sestavljeni identiteti
Otroci priseljenci
MODEL MEDKULTURNE VZGOJE IN IZOBRAŽEVANJA
Medkulturnost kot pedagoško-didaktično načelo
Sistemska podpora pri vključevanju otrok priseljencev
Učitelji z razvijajočo se medkulturno zmožnostjo
Razvoj zavedanja o večkulturni družbi pri vseh učnih predmetih
Medkulturni dialog na šoli
Sodelovanje s (starši) priseljenci
Sodelovanje z lokalno skupnostjo
ZAKLJUČEK
SEZNAM KRAJŠAV
KAZALO PRIMEROV IZ PEDAGOŠKE PRAKSE IN ZANJO
LITERATURA IN VIRI
STVARNO IN IMENSKO KAZALO
PRILOGA: Model medkulturne vzgoje in izobraževanja
More ...
Vsak je soodgovoren za vključevanje; Primorske novice 15.9.2017
Publishing House
Založba ZRC
ISBN
978-961-05-0013-1
Specifications
paperback • 14,5 × 20,5 cm • 380 pages
Price
25,00 EUR (Regular)
20,00 EUR (Club)