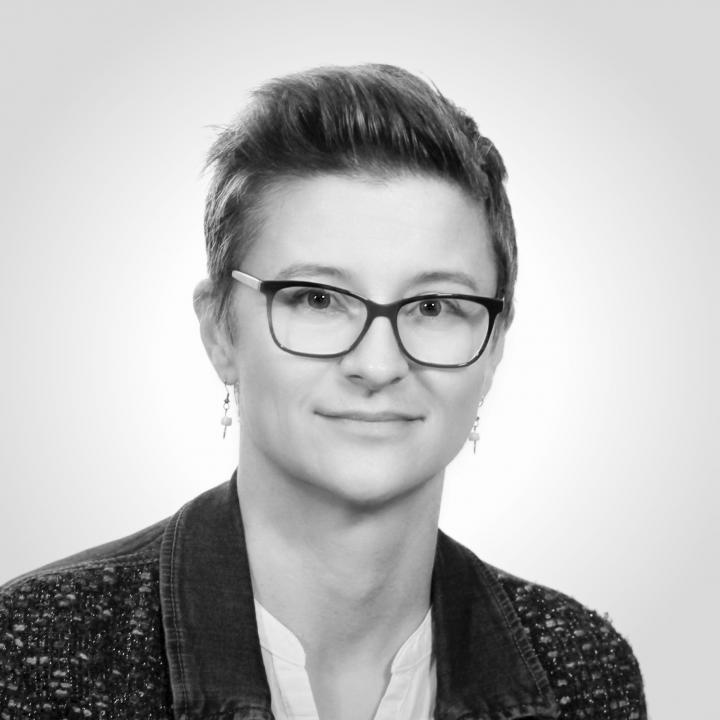 Kristina Toplak, PhD
PhD in Ethnology, Teacher of Art History, Research Associate, Assistant Professor
+386(0)2/421 31 55
kristina.toplak@zrc-sazu.si
With a background in ethnology and cultural anthropology she has ample research experience in migration studies and a history of working as a project coordinator and manager. Using different methodological approaches, she has carried out several extensive field researches (in Australia, Argentina, Germany, Norway and Slovenia) and presented the results on several conferences and in the form of scientific reports and articles.
Kristina has coordinated groups of researchers at the partner institution in two LLP projects and one project funded by the SEE Transnational Cooperation programme. Independently, she has led two projects on posted workers, funded by the EaSI programme, Progress axis. She co-organized the national foresight exercise under the SEEMIG project and has authored, co-authored or edited several reports, a handbook and a book on labour migration/mobility. Kristina was also co-editor and later editor-in-chief (2010-2012) of the main national academic journal in migration studies, Dve domovini / Two Homelands, and currently serves as editor-in-charge for the AEMI Journal. Since 2016 she has been involved as an external expert in the BA study programme at the Department of Sociology, Faculty of Arts, University of Maribor.
She is a member of Slovenian Ethnological Society, KULA, EASA – European Association of Social Anthropologists, SIEF – International Society for Ethnology and Folklore, and Society for Slovene Studies.
In her work she is dealing with problems of return migration, migration as cultural process, identifications and representation of migrants, and most recently with labour migration, labour mobility, especially mobility of artist and cultural professionals, and posted workers.
TOPLAK, Kristina. 2021. Med ustvarjalnostjo in migracijami: biografski portret umetnice in begunke Bare Remec. Dve domovini / Two Homelands. 53, pp. 45-61. https://ojs.zrc-sazu.si/twohomelands/article/view/9530/8789, doi: 10.3986/dd.2021.1.04.
TOPLAK, Kristina. 2020. Jožica Paddle Ledinek. In: RATEJ, Mateja (ed.). Osebnosti slovenske medicine, (Zbirka Življenja in dela, ISSN 2385-9792, Biografske študije, 24, 17). 1. izd. Ljubljana: ZRC SAZU, Založba ZRC, pp. 179-189, portrait.
TOPLAK, Kristina. 2019. Migracijski pojmovnik za mlade, (Zbirka Pojmovniki, knj. 11). 1. izd. Maribor: Aristej, 136 pp., ilustr. Nagrada: Zlata hruška, 2020
TOPLAK, Kristina. 2018. The mobility of artists and culture professionals in the European Union. In: TOPLAK, Kristina, VAH JEVŠNIK, Mojca (eds.). Labour mobility in the EU, (Migracije, ISSN 1580-7401, 28). 1st ed. Ljubljana: Založba ZRC SAZU, pp. 63-87, ilustr.
TOPLAK, Kristina. 2017. Artists' mobility in the EU: between opportunities and impediments. Dve domovini / Two Homelands. 46, pp. 71-85, http://twohomelands.zrc-sazu.si/uploads/articles/1507449912_Kristina_Toplak.pdf.
ŠUMI, Irena, TOPLAK, Cirila, TOPLAK, Kristina. 2016. From raw ideology to cooked legality: nation and citizenry in post-socialist Slovenia. Anthropological notebooks. 22, no. 3, pp. 125-143. http://www.drustvo-antropologov.si/AN/PDF/2016_3/Anthropological_Notebooks_XXII_3_Sumi.pdf.
VAH JEVŠNIK, Mojca, TOPLAK, Kristina. 2016. Država blaginje in njen vpliv na izseljevanje: primer Slovenije. Časopis za kritiko znanosti, 44, no. 264, pp. 331-344.
ROGELJA, Nataša, TOPLAK, Kristina, VAH JEVŠNIK, Mojca, MLEKUŽ, Jernej. 2016. Napotitve delavcev iz Slovenije: nekatere specifike in problemi. Dve domovini / Two Homelands. 44, pp. 125-137, ilustr. http://twohomelands.zrc-sazu.si/uploads/issues/1475064920_DD_TH_44.pdf.