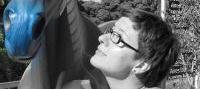 PhD in Ethnology, Teacher of Art History, Research Fellow
Research interests
With her background in ethnology and cultural anthropology she has abundant research experience in migration studies and a history of working as a project coordinator and manager. Using different methodological approaches she has carried out several extensive fieldwork researches (in Australia, Argentina, Germany, Norway and Slovenia) and presented the outcomes on several conferences and in the form of scientific reports, articles and a book. In her work she is dealing with problems of return migration, migration as cultural process, labour migration, identifications and representation of migrants, and most recently with mobility of artist and cultural professionals.
Kristina has coordinated groups of researchers at the partner institution in two LLP projects and one project financed by SEE Transnational Cooperation programme. Independently she has managed one concluded and one running project on posted workers, financed by the EaSI program, Progress axis. She was the co-organizer of the national foresight exercise part of the SEEMIG project and is co-author of the several reports and a handbook on labour migration/mobility. Kristina was also co-editor and later Editor in Chief (2010-2012) of the main national scientific journal in migration studies.
She is actively involved in Slovenian Ethnological Society and European Association of Social Anthropologists.
Selected publications
TOPLAK, Kristina. Buenas artes : ustvarjalnost Slovencev in njihovih potomcev v Buenos Airesu, (Migracije, 16). Ljubljana: Založba ZRC, ZRC SAZU, 2008. 220 str.
ŠUMI, Irena, TOPLAK, Cirila, TOPLAK, Kristina. From raw ideology to cooked legality : nation and citizenry in post-socialist Slovenia. Anthropological notebooks, 2016, year 22, no. 3, str. 125-143. http://www.drustvo-antropologov.si/AN/PDF/2016_3/Anthropological_Notebooks_XXII_3_Sumi.pdf.
ROGELJA, Nataša, TOPLAK, Kristina, VAH JEVŠNIK, Mojca, MLEKUŽ, Jernej. Napotitve delavcev iz Slovenije : nekatere specifike in problemi. Dve domovini : razprave o izseljenstvu, 2016, [Št.] 44, str. 125-137, ilustr. http://twohomelands.zrc-sazu.si/uploads/issues/1475064920_DD_TH_44.pdf
TOPLAK, Kristina. Podatki o migracijah in načrtovanje regionalnega razvoja : primer Podravja : izzivi in priložnosti. V: NARED, Janez (ur.), POLAJNAR HORVAT, Katarina (ur.), RAZPOTNIK VISKOVIĆ, Nika (ur.). Globalni izzivi in regionalni razvoj, (Regionalni razvoj, ISSN 1855-5780, 5). 1. izd. Ljubljana: Založba ZRC. 2015, str. 57-65.
LUKŠIČ-HACIN, Marina, TOPLAK, Kristina. Teoretizacija multikulturalizma in etnične ekonomije v luči ohranjanja kulturne dediščine med migranti. Dve domovini / Two Homelands, 2012, št. 35, str. 107-117.
TOPLAK, Kristina. Arhivirana ustna zgodovina. Pomen, zbiranje in ohranjanje ustnih pričevanj za zgodovino migracij. Arhivi, 2008, letn. 31, št. 2, str. 263-271.
TOPLAK, Kristina. Lokalne, nacionalne in globalne percepcije umetnostnih svetov. Slovenci v Buenos Airesu. Traditiones, 2008, letn. 37, št. 1, str. 135-153.
TOPLAK, Kristina. Slovenian immigrant artists and art production in Buenos Aires : from local (ethnic) to national and transnational art worlds. V: DRNOVŠEK, Marjan (ur.). Historical and cultural perspectives on Slovenian migration, (Migracije, 14). Ljubljana: ZRC Publishing, Scientific Research Centre of the Slovenian Academy of Sciences and Arts, 2007.
TOPLAK, Kristina. Vračanje in naseljevanje Slovencev in njihovih potomcev iz nekaterih evropskih držav in Avstralije. V: LUKŠIČ-HACIN, Marina (ur.). Spet doma? : povratne migracije med politiko, prakso in teorijo, (Migracije, 11). Ljubljana: Založba ZRC, ZRC SAZU, 2006.
TOPLAK, Kristina. Kulturna dediščina Slovencev v Avstraliji : med etnično identiteto in nostalgijo. V: HUDALES, Jože (ur.), VISOČNIK, Nataša (ur.). Dediščina v očeh znanosti, (Zbirka Županičeva knjižnica, št. 12). Ljubljana: Filozofska fakulteta, Oddelek za etnologijo in kulturno antropologijo, 2005.
All publications (COBISS) >>