Basic information
Acronym:

SIforREF

Researchers involved:

Duration:

1 April 2019–31 March 2022

Code:

CE1527
Description
SIforREF's main objective is to enhance significantly existing refugee integration policies on the regional and local level. Our goal is that social innovative and inclusive measures become mainstream. This is not only an exchange of good practices; our task is to  jointly design and implement methodologies and identify the social innovative conditions that must be met. The main outputs will be tools for evaluating and designing social innovative practices and pilots that result in inclusive policies.
Official project webpage: www.interreg-central.eu/siforref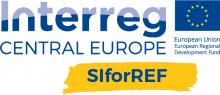 Lead partner
Project manager
Project manager at ZRC
Partners
Ca'Foscari University of Venice, Italy • Public Company for Personal Services Bologna, Italy • Municipality of Parma, Italy • University of Vienna, Austria • Caritas Vienna, Austria • The Berlin University of Technology, Germany • Initiative for the Self-Employment of Immigrant Women, Germany • Commissioner of the Berlin Senate for Integration and Migration, Germany • Gmanja Cultural Association, Slovenia • Advocate of the Principle of Equality, Slovenia
Funded by
The project is funded by the Interreg CENTRAL EUROPE Programme that encourages cooperation on shared challenges in central Europe.